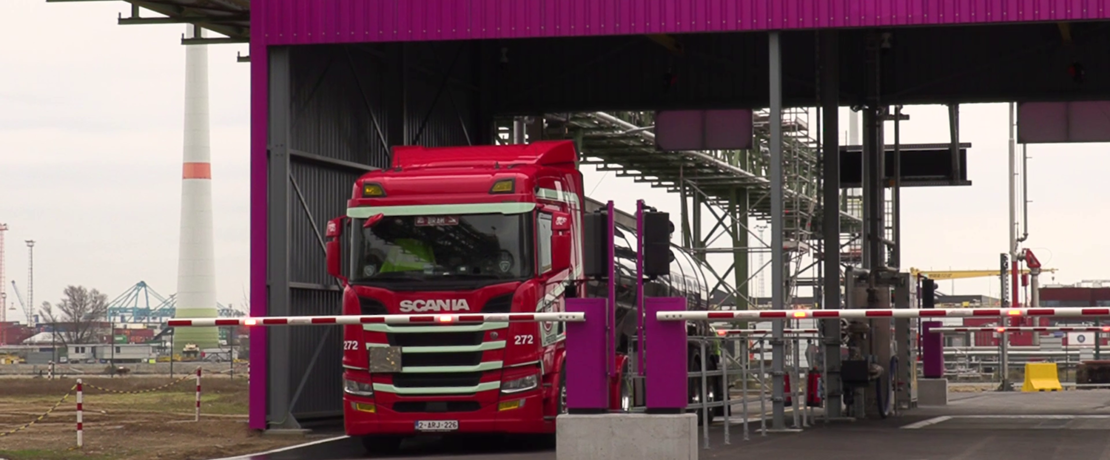 Press release
Antwerp
October 5, 2023
Evonik modernizes infrastructure for AgraLi® and blueSulfate® in Antwerp
New storage tanks and fully automated loading station for AgraLi® and blueSulfate® in the port of Antwerp
Successful cooperation with logistics partner Tanktransport Peeters
Strengthening safety and efficiency of the loading process to serve customers seamlessly
Essen, Germany. Evonik has modernized the infrastructure of its Antwerp site to strengthen its business with AgraLi® and blueSulfate®, two by-products of methionine production that are
mainly used as fertilizers. Along with two new storage tanks, a new, fully automated loading station for tank trucks will increase the safety and efficiency of the loading process to ensure
seamless customer service. The new infrastructure is being inaugurated on October 5 together with local logistics partner Tanktransport Peeters.
"The fact that we can return nutrient-containing by-products from our methionine production to the natural material cycle fits perfectly into our sustainability strategy," says Dr. Gaetano Blanda,
head of the Animal Nutrition business line. "Since AgraLi® and blueSulfate® are produced continuously, year-round, yet marketed seasonally, we had to make sure we had sufficiently large storage capacity."
For the necessary modernization of the infrastructure, Evonik opted for a leasing model with Tanktransport Peeters as its partner. Evonik in Antwerp has been working with the freight
forwarding company, which has regularly transported AgraLi® and blueSulfate®, for 40 years.
"The Evonik team and Tanktransport Peeters were the ideal combination to realize this ambitious project," says Ivan Pelgrims, managing director of Evonik Antwerp NV. "Our partnership in this project shows our appreciation for Tanktransport Peeters and our
trust in their know-how and experience."
"Our financial investment, together with Evonik's commitment to digital optimization, has produced an outstanding result," say Bob and Jef Peeters, Managing directors of Tanktransport Peeters.
In the first stage, the existing tanks were replaced by two externally built steel tanks. The delivery and installation of the giant storage tanks, each weighing 175 metric tons, required
months of preparation and went smoothly thanks to the cooperation of the project team members in Hanau and Antwerp.
Most recently, a fully automated loading station with automatic license plate recognition was built. Here, drivers are responsible for loading their own tank truck. This operation is performed at a safe distance and without the need for trucks to drive through the production facility. One of the benefits is that overloading is no longer possible. The new automated procedure and the reduced loading time lead to a noticeable increase in both the safety and the efficiency of the loading process.
The loading station for AgraLi® and blueSulfate® has been accessible for tanker drivers in 20 languages since early summer 2023.
Company information
Evonik is one of the world leaders in specialty chemicals. The company is active in more than 100 countries around the world and generated sales of €18.5 billion and an operating profit (adjusted EBITDA) of €2.49 billion in 2022. Evonik goes far beyond chemistry to create innovative, profitable and sustainable solutions for customers. About 34,000 employees work together for a common purpose: We want to improve life today and tomorrow.
About Nutrition & Care
The focus of the business of the Nutrition & Care division is on health and quality of life. It develops differentiated solutions for active pharmaceutical ingredients, medical devices, nutrition for humans and animals, personal care, cosmetics, and household cleaning. In these resilient end markets, the division generated sales of €4.24 billion in 2022 with about 5,700 employees.
Disclaimer
In so far as forecasts or expectations are expressed in this press release or where our statements concern the future, these forecasts, expectations or statements may involve known or unknown risks and uncertainties. Actual results or developments may vary, depending on changes in the operating environment. Neither Evonik Industries AG nor its group companies assume an obligation to update the forecasts, expectations or statements contained in this release.